Works
Select
Medias, Talks & Conferences
Public speaking
Conferences
"What does Mabanckou stand for? The Langue of the Writer and the Parole of the African." 
Annual MLA Convention session, Chicago: "The Strange Fate of the African Writer" : On the Work of Alain Mabanckou ; 3-6 January 2019.
 
"Grandeur et Décadence de l'Empire de Rabah."
Nineteenth-Century French Studies colloquium, Manhattan Beach, California; 25-27 Octobre, 2018.
"Ville cruelle, village mortel : questioning the homecoming in Mongo Beti's early novels."
Annual Conference of the African Literature Association, in Washington DC ; 23-26 May 2018.
Also invited to participate in an ALA writers' Roundtable
"Migrant writers' selves : le syndrome de l'enfant multiple chez les écrivains migrants africains."
Annual Conference of Society for Francophone Postcolonial Studies, London, UK, Nov. 17-18, 2017.
"L'âge du self : le soi dialogique comme cadre d'analyse des identités afrosporiques."
Institut de Psychologie, University of Lausanne, Switzerland, Nov. 11-16, 2017.
"African Authorial Identities: Dialogical Analysis of I-positionning in African Writers' Narratives."
15th Annual Conference of Swiss Psychological Society, Lausanne, Switzerland, Sept. 4-5, 2017.
"Au sein de l'être, on trouve l'autre : du je collectif au nous majestatif dans le roman francophone."
30th annual conference of the International Council of Francophone Studies (CIEF) in Saly-Portudal, Senegal (05/4-6/ 2016).
"Retour vers le futur dans aux Etats-Unis d'Afrique, d'Abdourahmane Waberi: quand l'uchronie devient le lieu de la modélisation d'une quête identitaire."
Séminaire Littératures et Mondes francophones, Université Savoie Mont Blanc, 12/11/2015.
"De la littérature orale à la littérature humorale : peut-on désormais parler d'un Mvet 2.0.? "
Princeton University's Department of French and Italian Graduate conference, "Writing Out Loud: Orality and Aurality in Literature" 10/16/2015.
"L'engagement dans les stratégies identitaires des écrivains afrosporiques."
Ecole Normale Supérieure, Yaoundé, Cameroon : International conference "Les sentiers actuels de la littérature francophone" 06/17-18/2014.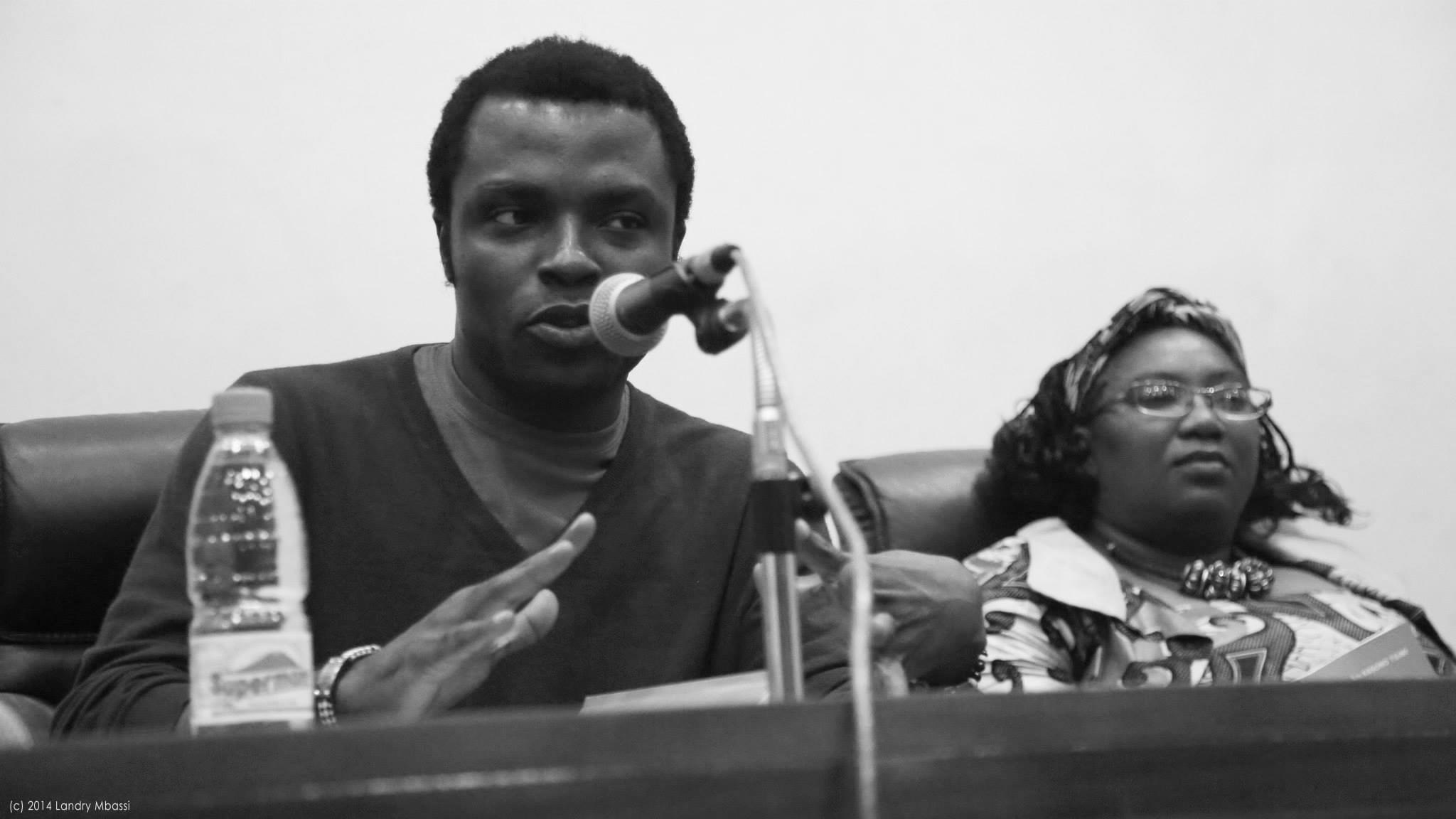 Yaounde, with Professor Cecile Dolissane Ebosse
Interviews